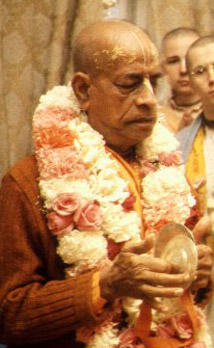 BY: MAHESH RAJA
My detailed rebuttal follows below the nonsense article penned by Sankarshana dasa who is also known as Bhakta Suria of Singapore. (He was hiding as Anonymous). He is exposed as Hypocrite Twister. In ALL his articles, you have to check what he has avoided to present or HOW he has TWISTED Srila Prabhupada's quotes to back-up his Anti-Ritvik propaganda/Gaudiya matha following.
Just to give the reader a glimpse of exposing this twister's cunningness please read:
We hear Suria was initially following bogus GBC voted ISKCON conditioned soul "guru"  Indradyumna Swami then the Twister changed game and instead joined Gaudiya Matha conditioned soul "guru" who gave him the name Sankarshana dasa.
The cheaters are always cheated from accepting Srila Prabhupada the BONAFIDE Diksha Guru.  This is just the fitting punishment. Instead of accepting the Ritvik system authorized by Srila Prabhupada they go for positions, power, money, prestige and are cheated. WHAT A COLOSSAL LOSS they do NOT get Srila Prabhupada as Diksha guru!!!!!! Therefore, they rot in the material world in the OCEAN of CONTINUOUS CYCLE of birth and death BILLIONS upon BILLIONS of YEARS imprisonment in 8,400,000 species of life forms. What a waste of human life form!
++++++++++++++
Submitted by Anonymous on Mon, 2012-04-16 10:06.
Firstly, Mahesh Raja is a fool. Srila Prabhupada wrote a letter dated 1967 (early days), to his western disciple, so he uses the word "birthday". "We shall observe his birthday ceremony tomorrow and the brahmacharis shall learn how to celebrate spiritual master's birthday." From the statement Prabhupada indicated; "spiritual master's birthday" which means Vyasa puja.  How can Mahesh Raja miss this? He is affected by envy and prejudiced which covered his consciousness.
Secondly Prabhupada did mention that Srila Sridhara Maharaj is a pure devotee and even a Siksa Guru for Prabhupada.
"This is B. R. Sridhara Maharaja, whom I consider to be even my siksaguru .
Letter to Hrishikesha, January 1, 1969
What Sripada Sridhara Maharaja has directed, I take it on my head. It is appropriate that I should accept his direction.
Letter to Govinda, September 12, 1969
I took his [Sridhara Maharaja] advises [sic], instructions, very seriously because from the very beginning I know he is a pure Vaishnava, a pure devotee, and I wanted to associate with him and I tried to help him also. Our relationship is very intimate. After the breakdown of the Gaudiya Matha, I wanted to organize another organization, making Sridhara Maharaja the head.
Srila Prabhupada was very clear, Srila Sridhara Maharaj is a pure devotee. This Mahesh Raja is envious, here is a scriptural quote to support my claims; "One should not be envious considering one preacher to be very great and another to be very lowly. This is a material distinction and has no place on the platform of spiritual activities."
(Chaitanya-caritamrta Adi 10-7 purport)
Because he is overly sentimentally attached to one personality and his practices, he has developed hatred or lesser reverence to other Gurus and Vaishnava acharyas of other institutions. Srila Bhaktivinode Thakur confirms this; "A rule that is followed by one society is not necessarily accepted in another society. That is why one community is different from another. As a community gradually develops more respect for its own standards, it develops hatred towards other communities and considers their standards inferior." (Intro to Sri Krishna Samhita, Thakur Bhaktivinode)
We should not be fooled or misled by such neophytes. We must go to a highly realized soul for guidance on scriptural conclusions. When neophytes mis-interpret such statements, he creates disturbance in society. Thank you.
Sankarshana dasa
++++++++++++++
Breakdown analysis of core points of Sankarshana das's above argument:
"I took his [Sridhara Maharaja] advises [sic], instructions, very seriously because from the very beginning I know he is a pure Vaishnava, a pure devotee, and I wanted to associate with him and I tried to help him also. Our relationship is very intimate. After the breakdown of the Gaudiya Matha, I wanted to organize another organization, making Sridhara Maharaja the head."
Conversations, March 17, 1973, Mayapur
1) He has CONVENIENTLY chosen IGNORE COMPELETELY the letter by Srila Prabhupada to Rupanuga against his God brothers which is DATED MUCH LATER April 28, 1974  than dates of the above statements. If the earlier dates were taken into account they can ONLY be used as DIPLOMACY – this was mentioned in my article –
http://iskcontimes.com/conditioned-soul-sridhara-maharaja-vs-srila-prabhupada-mahabhagavata
LINK NOT WORKING
http://www.harekrsna.org/pada/documents/sridhara-vs-prabhupada.htm
ALTERNATIVE LINK