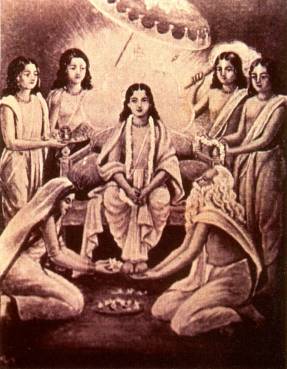 Sri Govinda Ghosha disappearance day
Srila Prabhupada describes the glories of Sri Govinda Ghosa
.
compiled by Yasoda nandana dasa
Books : Sri Caitanya-caritamrta – 1975 Edition : Cc. Adi-lila : Adi 11: The Expansions of Lord Nityananda : Adi 11.19 : TRANSLATION :
When Vāsudeva Ghoṣa performed kīrtana, describing Lord Caitanya and Nityānanda, even wood and stone would melt upon hearing it


Books : Sri Caitanya-caritamrta – 1975 Edition : Cc. Adi-lila : Adi 10: The Trunk, Branches and Subbranches of the Caitanya Tree : Adi 10.115 : PURPORT :
The three brothers Govinda, Mādhava and
Vāsudev
a
Ghoṣa
all belonged to a
kāyastha
family. Govinda established the Gopīnātha temple in Agradvīpa, where he resided. Mādhava
Ghoṣa
was expert in performing
kīrtana.
No one within this world could compete with him. He was known as the singer of Vṛndāvana and was very dear to Śrī Nityānanda Prabhu.
It is said that when the three brothers performed saṅkīrtana, immediately Lord Caitanya and Nityānanda would dance in ecstasy.
According to the
Gaura-gaṇoddeśa-dīpikā
(188), the three brothers were formerly Kalāvatī, Rasollāsā and Guṇatuṅgā, who recited the songs composed by Śrī Viśākhā-gopī. T
he three brothers were among one of the seven parties that performed kīrtana when Lord Śrī Caitanya Mahāprabhu attended the Ratha-yātrā festival at Jagannātha Purī
. Vakreśvara Paṇḍita was the chief dancer in their party. This is vividly described in the
Madhya-līlā,
Chapter Thirteen, verses 42 and 43.
Books : Sri Caitanya-caritamrta – 1975 Edition : Cc. Adi-lila : Adi 10: The Trunk, Branches and Subbranches of the Caitanya Tree : Adi 10.118 : TRANSLATION :
These three were Rāmadāsa, Mādhava Ghoṣa and Vāsudeva Ghoṣa. Govinda Ghoṣa, however, remained with Śrī Caitanya Mahāprabhu at Jagannātha Purī and thus felt great satisfaction.

Sri Caitanya-caritamrta – 1975 Edition : Cc. Adi-lila : Adi 11: The Expansions of Lord Nityananda : Adi 11.14-15 : TRANSLATION : When Nityānanda Prabhu was ordered to go to Bengal to preach, these two devotees [Śrī Rāmadāsa and Gadādhara dāsa] were ordered to go with Him. Thus they are sometimes counted among the devotees of Lord Caitanya and sometimes among the devotees of Lord Nityānanda. Similarly, Mādhava and Vāsudeva Ghoṣa belonged to both groups of devotees simultaneously.

Sri Caitanya-caritamrta – 1975 Edition : Cc. Madhya-lila : Madhya 11: The Beda-kirtana Pastimes of Sri Caitanya Mahaprabhu : Madhya 11.88 : TRANSLATION : "Here also are Govinda Ghoṣa, Mādhava Ghoṣa and Vāsudeva Ghoṣa. They are three brothers, and their saṅkīrtana, congregational chanting, pleases the Lord very much."

Sri Caitanya-caritamrta – 1975 Edition : Cc. Madhya-lila : Madhya 11: The Beda-kirtana Pastimes of Sri Caitanya Mahaprabhu : Madhya 11.88 : PURPORT : Govinda Ghoṣa belonged to the kāyastha dynasty of the Uttara-rāḍhīya section, and he was known as Ghoṣa Ṭhākura. Even to the present day there is a place named Agradvīpa, near Katwa, where a fair takes place and is named after Ghoṣa Ṭhākura. As far as Vāsudeva Ghoṣa is concerned, he composed many nice songs about Lord Śrī Caitanya Mahāprabhu, and these are all authorized Vaiṣṇava songs, like the songs of Narottama dāsa Ṭhākura, Bhaktivinoda Ṭhākura, Locana dāsa Ṭhākura, Govinda dāsa Ṭhākura and other great Vaiṣṇavas