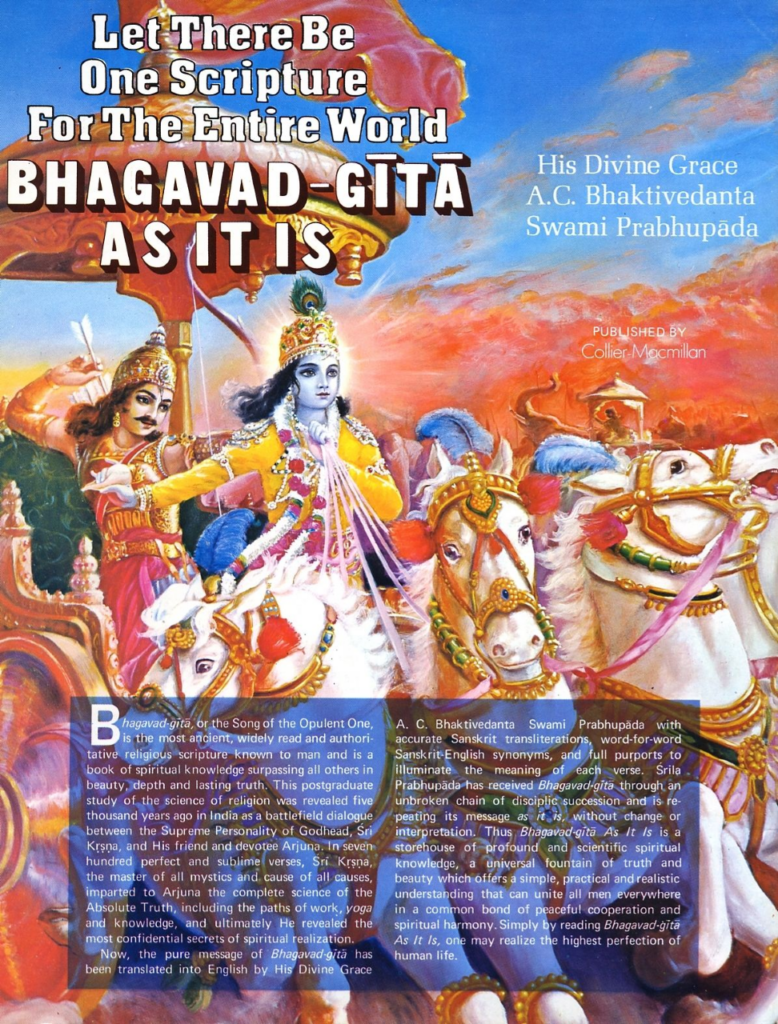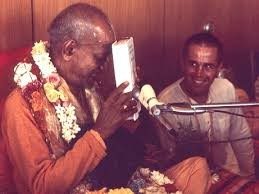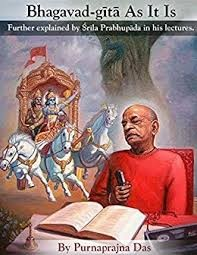 Beautiful advertisements of Bhagavad Gita As It Is 1972 Macmillan Edition in BTG Magazines
Hare Krishna, below are some amazingadvertisements for the Original Macmillan Bhagavad Gita As It Is when it was released in 1972.
They are taken from BTG magazines.
These excellent advertisements can still be used to promote the glories of this original version. So many BTG magazines have dedicated a page for promoting this transcendental book. Some of them are shown below.
Image 1: BTG 1972 VOLUME 1, NUMBER 46
Image 2: BTG 1972 VOLUME 1, NUMBER 47
Image 3: BTG 1974 VOLUME 1, NUMBER 68 Image 4: BTG 1973 VOLUME 1, NUMBER 53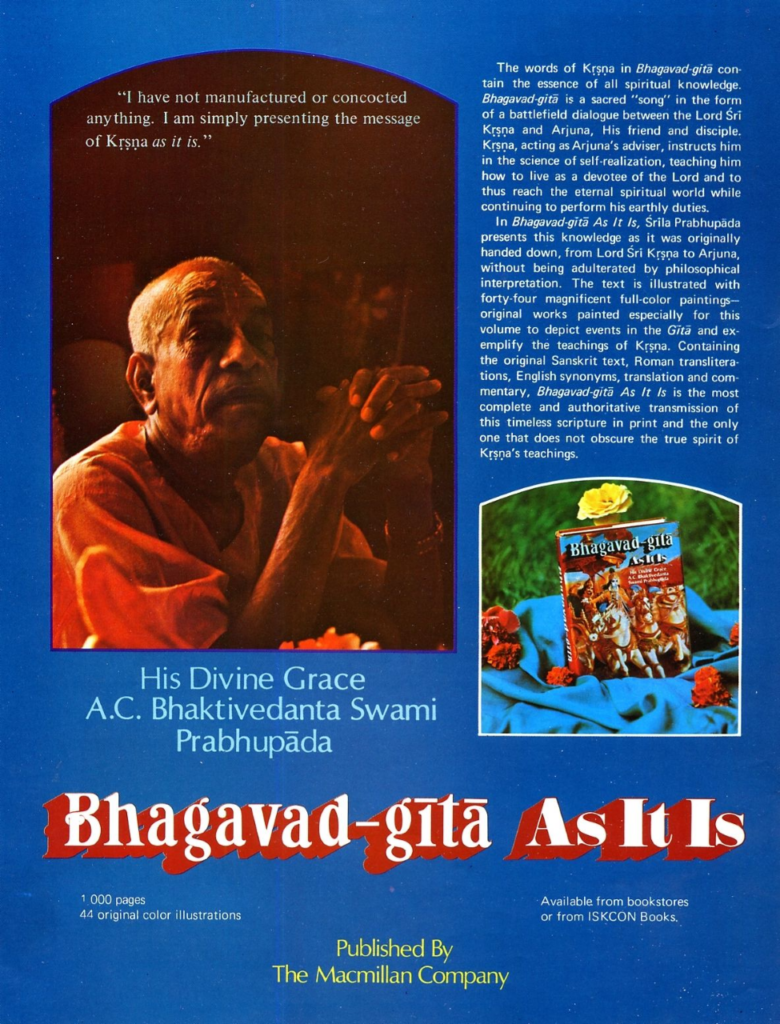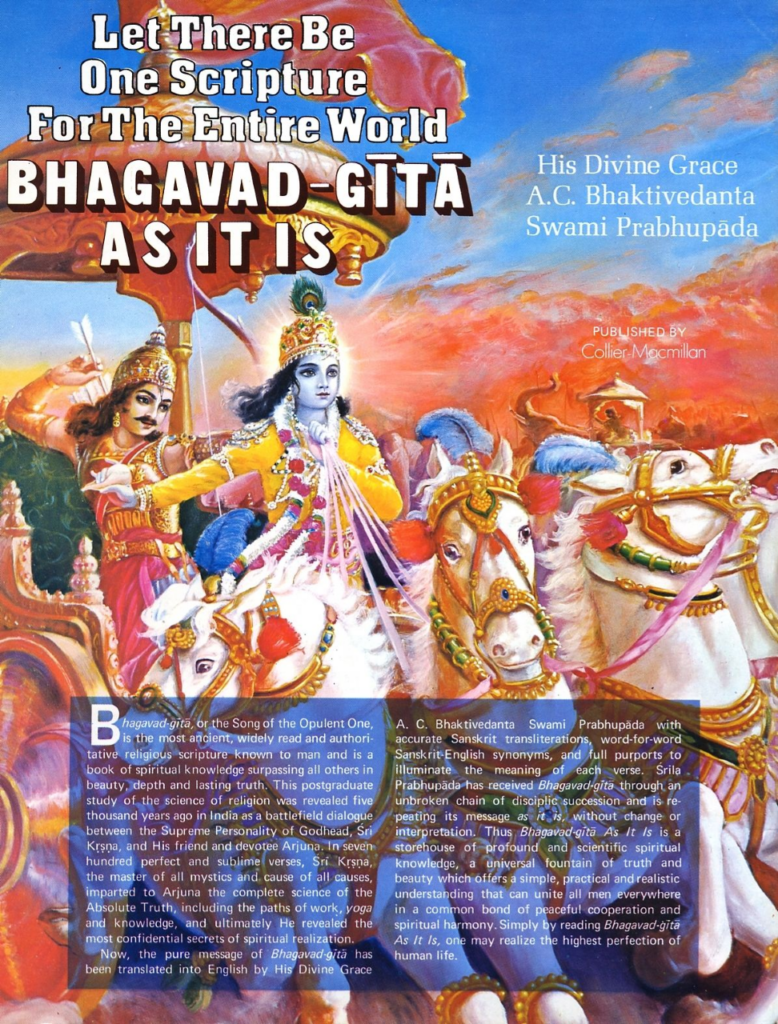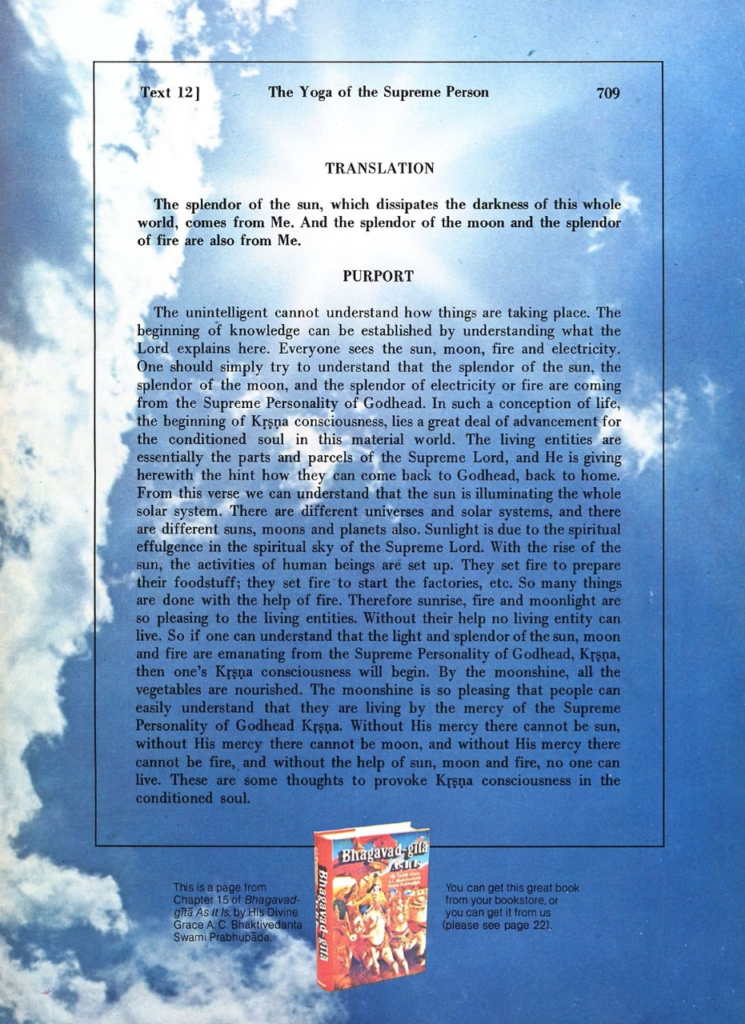 ———————————————————————————————————–Letter to: Svarupa, RanadhiraMayapur-3 February, 1976Los AngelesMy dear Svarupa and Ranadhira,Please accept my blessings. I beg to thank you for your letter dated January 30th, 1976 with the important enclosures.The membership pamphlet is very nicely done. That you have got $20,000 in 1975 from the members is certainly very noteworthy. Develop the program more if the results are so good. Also, along with the pamphlet and The K.C. Movement Is Authorized you can send our book catalog. Then the philanthropists will be able to purchase our books.The reviews have very much encouraged me. Especially those of Prof. Bhatt and Prof. Vajpeye. I have personally written a letter of thanks to Dr. Bhatt, that he has so much encouraged me. Dr. Vajpeye's review we are going to print and widely distribute, especially in Bombay and Madras, where there is so much propaganda from these bogus gurus and yogis. He has got practical experience of how they are cheating the innocent people in foreign countries and he has written; "The authorized edition of Bhagavad-gita will help to stop the terrible cheating of 'gurus' and 'yogis' who are false and unauthorized."I hope this meets you well.Your ever well-wisher,A.C. Bhaktivedanta Swami
——————————————————————————————————————————————————-
The Bhagavad-gītā is just like a cow, and Lord Kṛṣṇa, who is a cowherd boy, is milking this cow. The milk is the essence of the Vedas, and Arjuna is just like a calf. The wise men, the great sages and pure devotees, are to drink the nectarean milk of Bhagavad-gītā.In this present day, man is very eager to have one scripture, one God, one religion, and one occupation. So, let there be one common scripture for the whole world – Bhagavad-gītā. And let there be one God only for the whole world – Śrī Kṛṣṇa. And one mantra only – Hare Kṛṣṇa, Hare Kṛṣṇa, Kṛṣṇa Kṛṣṇa, Hare Hare/ Hare Rāma, Hare Rāma, Rāma Rāma, Hare Hare. And let there be one work only – the service of the Supreme Personality of Godhead. [Introduction to Bhagavad Gita As It Is, Original 1972 Edition]