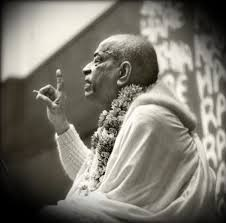 A Waste of Time for Sincere Devotees?
Iskcon Mayapur-Vrindaban Tirthayatras:
A Waste of Time for Sincere Devotees?
By Narasimha das
"Narottama Das Thakura, a great acharya of the Vaishnava sect, has, for the present, forbidden us to go to such places of pilgrimage because in this age, the times have so changed, a sincere person may have a different impression on seeing the behavior of the present residents of the pilgrimage sites. He has recommended that instead of taking the trouble to travel to such places, on should concentrate his mind on Govinda, and that will help him." (SB.3.20.4, Purport)
In this purport Srila Prabhupada goes on to explain that ordinary persons may still derive benefit from going to holy places like Vrindaban but only if they go there to find a person who knows the science of God, or a tattva-vit. Tattva-vit means "one who knows the Absolute Truth." Srila Prabhupada warns, "There are many pseudo-transcendentalists, even at places of pilgrimage. Such men are always present, and one has to be intelligent enough to find the actual person to be consulted; then one's attempt to progress by traveling to different holy places will be successful. One has to be freed from all contamination, and at the same time he has to find a person who knows the science of Krishna."
Srila Prabhupada created temples and ashrams in Mayapur and Vrindaban where sincere pilgrims could come and get trained in Krishna consciousness. Unfortunately, these places have become severely commercialized in recent years and are now full of pretenders who pose as advanced devotees and spiritual masters. The yearly festivals that Srila Prabhupada ordained at these places for the purpose of revitalizing and inspiring our devotional service are now dominated by various deviants. Some deviants are looking for a new iskuru, others are trying to become voted-in iskurus, others are looking for new disciples to replace the one's that left, others are doing business as tour guides, others are simply eager to hear the latest iskcon gossip while eating lassis and samosas at iskcon restaurants. Others go there for shopping. Such kind of festivities, even in Vrindaban, are useless, or even offensive.
All these visitors–as well as many or most of the locals–act in ways that create many misleading distractions and impressions. "…a sincere person may have a different impression on seeing the behavior of the present residents of the pilgrimage sites."
Srila Prabhupada mentions that one first must be "freed from all contamination," and then one must find a person who "knows the science of Krishna consciousness." To become freed from contamination means one should shave his head, fast, eat only Krishna prasada, attend temple programs, bath in the Ganges or Yamuna, constantly chant, and avoid social and political clubs of sahajiyas, mayavadis, other deviants, or even prakrita-bhaktas, who believe in Krishna but have no real interest in pure devotional service or going back home back to Godhead.
"If one sincerely searches for spiritual salvation, then Krishna, being situated in everyone's heart, gives him the intelligence to find a suitable spiritual master. By the grace of a spiritual master like Maitreya, one gets the proper instruction and advances in his spiritual life." (SB. 3.20.4, Purport)
Srila Prabhupada has often mentioned that devotees can make their own homes holy places by performing devotional service and Deity worship under His directions. He has made this easy for those who accept Him as the real acharya for this age. His books and instructions are abundantly available for everyone. In these present degraded times, travel to India and within India is expensive, difficult, dangerous, and dirty. Real sadhus are not easy to find but cheaters are prominent everywhere. Thus, it may be best for most devotees to stay at home, worship the Deity, distribute prasadam, participate in samkirtana, and chant without offense while hearing and following Srila Prabhupada. Then one can easily meditate on Sri Vrindaban Dhama and Sri Dhama Mayapur without disturbance or offense.