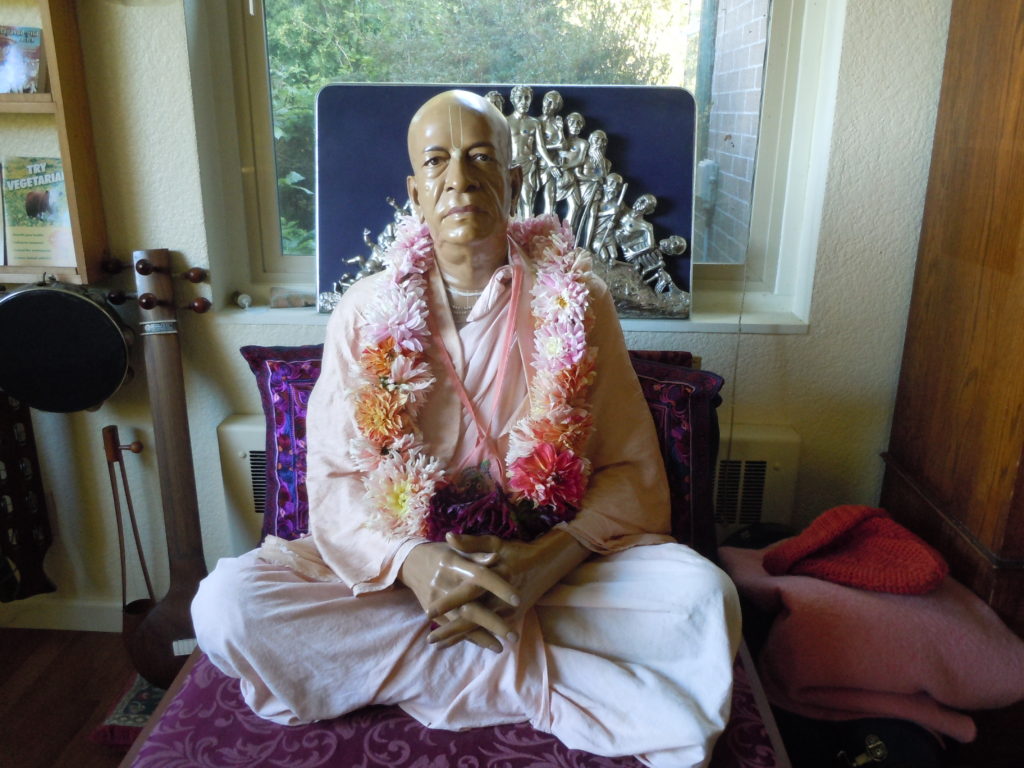 Madhya TEXTS  17.48-49
keha yadi tāṅra mukhe śune kṛṣṇa-nāma
tāṅra mukhe āna śune tāṅra mukhe āna
sabe 'kṛṣṇa' 'hari' bali' nāce, kānde, hāse
param

parāya 'vaiṣṇava' ha-ila sarva deśe
TRANSLATION–When someone heard

the

chanting of

the

holy name from

the

mouth of Śrī Caitanya Mahāprabhu, and someone else heard

this

chanting from that second person, and someone again heard

this

chanting from

the

third person, everyone in all countries became a Vaiṣṇava through such disciplic succession. Thus everyone chanted

the

holy name of Kṛṣṇa and Hari, and

the

y danced, cried and smiled.
The

transcendental power or potency of

the

Hare Kṛṣṇa mahā-mantra

is

herein explained. First,

the

holy name

is

vibrated by Śrī Caitanya Mahāprabhu. When someone hears from Him directly, he

is

purified. When another person hears from that person, he also

is

purified. In

this

way

the

purification process

is

advanced among pure devotees. Śrī Caitanya Mahāprabhu

is

the

Supreme Personality of Godhead, and no one can claim His potency. Nonetheless, if one

is

a pure devotee, hundreds and thousands of men can be purified by his vibration. 

This

potency

is

within every living being, provided he chants

the

Hare Kṛṣṇa mahā-mantra offenselessly and without material motives. When a pure devotee chants offenselessly, another person will become a Vaiṣṇava, and from him another Vaiṣṇava will emerge. 

This

is

the

param

parā

system

.
Lord Brahmā heard

the

occult sound tapa, but he did not see

the

person who vibrated

the

sound. And still he accepted

the

instruction as beneficial for him, and

the

refore he engaged himself in meditation for one thousand celestial years. One celestial year

is

equal to 6 x 30 x 12 x 1000 of our years. His acceptance of

the

sound was due to his pure vision of

the

absolute nature of

the

Lord. And due to his correct vision, he made no distinction between

the

Lord and

the

Lord's instruction.

The

re

is

no difference between

the

Lord and sound vibration coming from Him, even though He

is

not personally present. 

The

best way of understanding

is

to accept such divine instruction, and Brahmā,

the

prime spiritual master of everyone,

is

the

living example of

this

process of receiving transcendental knowledge. 

The

potency of transcendental sound

is

never minimized because

the

vibrator

is

apparently absent.
letter 2- 11- 67
 

I

 

wish

 that 

each

 and every Branch shall 

keep

 

the

ir independent identity and cooperate keeping

the

Acarya in

the

cen
tre. 

On

 

this

 

principle

 we can open any number of Branches all over

the

world. 
Conclusion- So in

the

above three statements by Srila Prabhupada he nicely explains

the

entire principle of disciplic succession or

param

para

. First each devotee preacher must chant Hare Krsna maha mantra without offenses and be without material motives.

This

means one must completely obey him as our Acarya with no deviations and no exceptions.

This

means all those still operating within

the

walls of

is

kcon and without. To obey Srila Prabhupada means to keep him in

the

center as

the

Acarya as he says above, which does not mean anybody else can be a guru/spiritual master/acarya within

the

institution he founded. You can only have ONE center to a circle. Srila Prabhupada

is

and will remain

the

founder acarya of

is

kcon for those who obey him. And lastly he states that even though he may not be physically present, he

is

still present in his instructions or sound vibrations which

is

never minimized because to our limited mundane senses "he appears to be absent". So

the

se are his teachings in a nutshell about how

this

Hare Krsna Movement can expand into

the

future. No  need for further ongoing wranglings or word jugglery about some conversation tapes or letters written 40 years ago. In three short

para

graphs, that all sides have read, Srila Prabhupada has given us

the

answer, and we must obey him.