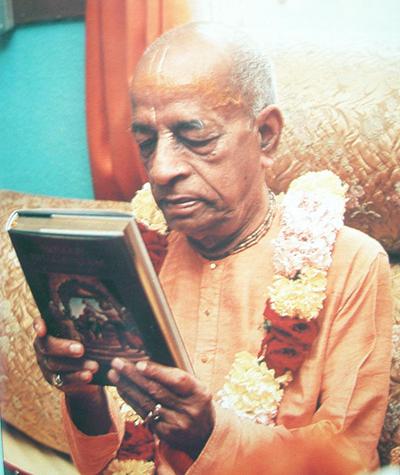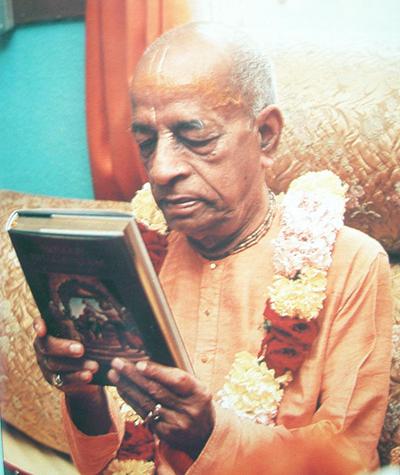 Lecture – Atlanta, March 2, 1975
So he wanted this, and he is not… It is not that he is dead and gone. That is not spiritual understanding. Even ordinary living being, he does not die. Na hanyate hanyamane sarire. And what to speak of such exalted, authorized personality like Bhaktisiddhanta. He is seeing. I never feel that I am alone. Of course, when I came to your country without any friend, without any means… Practically, just like a vagabond I came. But I had full faith that "My Guru Maharaja is with me." I never lost this faith, and that is fact. There are two words, vani and vapuh. Vani means words, and vapuh means this physical body. SO VANI IS MORE IMPORTANT THAN THE VAPUH. VAPUH WILL BE FINISHED. THIS IS MATERIAL BODY. IT WILL BE FINISHED. THAT IS THE NATURE. BUT IF WE KEEP TO THE VANI, TO THE WORDS OF SPIRITUAL MASTER, THEN WE REMAIN VERY FIXED UP. It doesn't matter. Just like Bhagavad-gita. It was spoken five thousand years ago. But if you keep to the words of Krishna, then it is always fresh and guiding. Not that because Arjuna personally listened to Krishna about the instruction of Bhagavad-gita, therefore he knew it. That is not the fact. If you accept Bhagavad-gita as it is, then you should know that Krishna is present before you in His words in the Bhagavad-gita. This is called spiritual realization. It is not mundane historical incidences. If we keep…
evam parampara-praptam
imam rajarsayo viduh
sa kaleneha (mahata)
yogo nastah parantapa
If you don't keep in touch with the original link, then it will be lost. And if you keep touch with the original link, then you are directly hearing Krishna. SIMILARLY, KRISHNA AND KRISHNA'S REPRESENTATIVE, SPIRITUAL MASTER, IF YOU KEEP ALWAYS INTACT, IN LINK WITH THE WORDS AND INSTRUCTION OF THE SUPERIOR AUTHORITIES, THEN YOU ARE ALWAYS FRESH. THIS IS SPIRITUAL UNDERSTANDING.
Srimad-Bhagavatam – 3.31.48 Purport
…. it is described here that ONE HAS TO ASSOCIATE WITH LIBERATED PERSONS NOT DIRECTLY, PHYSICALLY, BUT BY UNDERSTANDING, THROUGH PHILOSOPHY AND LOGIC, THE PROBLEMS OF LIFE.
Lecture – London, August 18, 1971
Prabhupada: JUST FOLLOW HIS ORDER. SPIRITUAL MASTER IS ALONG WITH YOU BY HIS WORDS. Just like my spiritual master is not physically present, but I am associating with him by his words.
Letter to: Nandarani, Krishna Devi, Subala, Uddhava – 3 October, 1967
Dayananda, Nandarani and Uddhava first went to L.A. to open this branch & in the absence of Dayananda, Subala and Krishna devi have come to help. Whenever there is new branch of our society for Krishna Consciousness I become very very happy, & my blessings in heart and soul are with you. I went to your country for spreading this information of Krishna Consciousness & you are helping me in my mission ALTHOUGH I AM NOT PHYSICALLY PRESENT THERE BUT SPIRITUALLY I AM ALWAYS WITH YOU.
Letter to: Govinda, 17 August, 1969
Please accept my blessings. I beg to acknowledge receipt of your letter dated August 9th, 1969. In the meantime I have sent one tape to Gaurasundara. Perhaps you might have received it, and if it is all right, then I can send you many other tapes, similarly stereoed. From the description of your letter I understand that Hawaii is good field for our preaching work. The hippies are actually immediate candidates for our Krishna Consciousness. We pray to Caitanya Mahaprabhu, "My dear Lord, Your Incarnation is to claim the most fallen souls." So in this age of Kali almost everyone is dangerously fallen, and the hippies appear to be still more greater fallen. Besides that, from their behavior it appears they like this movement. This is a very good sign. Your description of that Yogi Sai, that is also little hopeful. He is reading Bhagavad-gita and quoting some lines. So you are very intelligent; you can tackle these people very nicely, assisted by your good husband and the other boys and girls. YOU WRITE THAT YOU HAVE DESIRE TO AVAIL OF MY ASSOCIATION AGAIN, BUT WHY DO YOU FORGET THAT YOU ARE ALWAYS IN ASSOCIATION WITH ME? WHEN YOU ARE HELPING MY MISSIONARY ACTIVITIES I AM ALWAYS THINKING OF YOU AND YOU ARE ALWAYS THINKING OF ME. THAT IS REAL ASSOCIATION. Just like I always think of my Guru Maharaja every moment, although He is not physically present, and because I am trying to serve Him to my best capacity, I am sure He is helping me by His spiritual blessings. So there are two kinds of association: physical and preceptorial. Physical association is not so important as preceptorial association.
Conversation – July 21, 1975, San Francisco
Narayana: So those disciples who don't have opportunity to see you or speak with you…
Prabhupada: That he was speaking, vani and vapuh. Even if you don't see his body, you take his word, vani.
Narayana: But how do they know they're pleasing you, Srila Prabhupada?
Prabhupada: If you actually follow the words of guru, that means he is pleased. And if you do not follow, how he can be pleased?
Sudama: Not only that, but your mercy is spread everywhere, and if we take advantage, you told us once, then we will feel the result.
Jayadvaita: And if we have faith in what the guru says, then automatically we'll do that.
Prabhupada: Yes. My Guru Maharaja passed in 1936, and I started this movement in 1965, thirty years after. Then? I am getting the mercy of guru. THIS IS VANI. EVEN THE GURU IS NOT PHYSICALLY PRESENT, IF YOU FOLLOW THE VANI, THEN YOU ARE GETTING HELP.
Sudama: So there's no question of ever separation as long as the disciple follows the instruction of guru.
Prabhupada: No. Cakhu-dan dilo jei… What is that, next one?
Sudama: Cakhu-dan dilo jei, janme janme prabhu sei.
Prabhupada: JANME JANME PRABHU SEI. SO WHERE THERE IS SEPARATION? WHO HAS OPENED YOUR EYES, HE IS BIRTH AFTER BIRTH YOUR PRABHU.
Conversation – July 14, 1977, Vrindavana
Prabhupada: I SHALL REMAIN YOUR PERSONAL GUIDANCE, PHYSICALLY PRESENT OR NOT PHYSICALLY, AS I AM GETTING PERSONAL GUIDANCE FROM MY GURU MAHARAJA.
Lecture – Los Angeles, January 13, 1969
" Similarly, arcye sila-dhir gurusu na… Gurusu means those who are acaryas, to accept their body as ordinary man's body, this is denied in the sastras. SO ALTHOUGH A PHYSICAL BODY IS NOT PRESENT, THE VIBRATION SHOULD BE ACCEPTED AS THE PRESENCE OF THE SPIRITUAL MASTER, VIBRATION. WHAT WE HAVE HEARD FROM THE SPIRITUAL MASTER, THAT IS LIVING.
Letter to: Tusta Krishna, 14 December, 1972
Next you ask if I am present in my picture and form? YES. IN FORM AS WELL AS IN TEACHINGS. TO CARRY OUT THE TEACHINGS OF GURU IS MORE IMPORTANT THAN TO WORSHIP THE FORM, BUT NONE OF THEM SHOULD BE NEGLECTED. FORM IS CALLED VAPU AND TEACHINGS IS CALLED VANI. BOTH SHOULD BE WORSHIPED. VANI IS MORE IMPORTANT THAN VAPU
Chaitanya-charitamrita, Adi 1.35 Purport
The service of the spiritual master is essential. If there is no chance to serve the spiritual master directly, a devotee should serve him by remembering his instructions. THERE IS NO DIFFERENCE BETWEEN THE SPIRITUAL MASTER'S INSTRUCTIONS AND THE SPIRITUAL MASTER HIMSELF. IN HIS ABSENCE, THEREFORE, HIS WORDS OF DIRECTION SHOULD BE THE PRIDE OF THE DISCIPLE.
Letter to: Gurukrpa, Yasodanandana – 25 December, 1973
Whatever is to be learned of the teachings of Srila Bhaktivinode Thakura can be learned from our books. THERE IS NO NEED WHATSOEVER FOR ANY OUTSIDE INSTRUCTION.
Letter to: Bahurupa, 22 November, 1974
I am pleased to hear that you are chanting 16 rounds daily and reading my books regularly and following the four rules. IN MY BOOKS THE PHILOSOPHY OF KRISHNA CONSCIOUSNESS IS EXPLAINED FULLY SO IF THERE IS ANYTHING WHICH YOU DO NOT UNDERSTAND, THEN YOU SIMPLY HAVE TO READ AGAIN AND AGAIN. BY READING DAILY THE KNOWLEDGE WILL BE REVEALED TO YOU AND BY THIS PROCESS YOUR SPIRITUAL LIFE WILL DEVELOP.
Letter to: Babhru, Satyaki – 18 September, 1975
PLEASE CONTINUE READING MY BOOKS SERIOUSLY AND EVERYTHING WILL BE REVEALED TO YOU.
Letter to: Hugo Salemon, 22 November, 1974
So far your worship of Lord Jagannatha in your home and your becoming initiated. It is alright provided you have the recommendation of the temple president. I am very glad to see that such a young boy as yourself you are taking serious interest in this Krishna Consciousness Movement. Please continue in this way. Our process is something universal. It cannot be checked by any means. Anyone in any place, in any country can chant Hare Krishna. If it is possible to go to the temple, then take advantage of the temple. A temple is a place where one is given the opportunity to render direct devotional service to the Supreme Lord Sri Krishna. IN CONJUNCTION WITH THIS YOU SHOULD ALWAYS READ MY BOOKS DAILY AND ALL YOUR QUESTIONS WILL BE ANSWERED AND YOU WILL HAVE A FIRM BASIS OF KRISHNA CONSCIOUSNESS. IN THIS WAY YOUR LIFE WILL BE PERFECT.
Letter to: Janajanmadhih, 15 November, 1975
So, if you are strong enough to preach Krishna consciousness there, that is very good; that as long as you chant your 16 rounds and follow the four regulative principles, then you will get the strength. THE PROCESS IS THAT YOU SHOULD MEMORIZE THE PURPORTS OF MY BOOKS AND THEN SPEAK THEM IN YOUR OWN WORDS. DO NOT ADULTERATE OR CHANGE ANYTHING. THEN YOU WILL BE THE PERFECT PREACHER. You should also distribute our books as far as possible. If you do this sincerely, then you will be successful.
Note: If one thinks that there are many pseudo devotees or nondevotees in the Krishna Consciousness Society, one can keep direct company with the spiritual master.
Chaitanya-charitamrita, Madhya 19.157
IF ONE THINKS THAT THERE ARE MANY PSEUDO DEVOTEES OR NONDEVOTEES IN THE KRISHNA CONSCIOUSNESS SOCIETY, ONE CAN KEEP DIRECT COMPANY WITH THE SPIRITUAL MASTER, and if there is any doubt, one should consult the spiritual master. However, unless one follows the spiritual master's instructions and the regulative principles governing chanting and hearing the holy name of the Lord, one cannot become a pure devotee. By one's mental concoctions, one falls down. By associating with nondevotees, one breaks the regulative principles and is thereby lost. In the Upadesamrta of Srila Rupa Gosvami, it is said:
atyaharah prayasas ca
prajalpo niyamagrahah
jana-sangas ca laulyam ca
sadbhir bhaktir vinasyati
"One's devotional service is spoiled when he becomes too entangled in the following six activities: (1) eating more than necessary or collecting more funds than required, (2) over-endeavoring for mundane things that are very difficult to attain, (3) talking unnecessarily about mundane subject matters, (4) practicing the scriptural rules and regulations only for the sake of following them and not for the sake of spiritual advancement, or rejecting the rules and regulations of the scriptures and working independently or whimsically, (5) associating with worldly-minded persons who are not interested in Krishna Consciousness, and (6) being greedy for mundane achievements."
Note: You can DIRECTLY associate with Srila Prabhupada by reading his books.
Lecture – Vrindavana, October 20, 1972
But in this life, if we develop Krishna Consciousness by association of devotees… As Narottama dasa Thakura has sung, tandera carana-sevi-bhakta-sane vasa. One's aim of life should be to serve the acaryas. Acarya upasanam. So our acarya in the Gaudiya Vaisnava Sampradaya, the sri-rupa sanatana bhatta-raghunatha, sri-jiva gopala-bhatta dasa-raghunatha, the Six Gosvamins, and if we associate with them… THIS BOOK, NECTAR OF DEVOTION, BHAKTI-RASAMRTA-SINDHU, IF YOU READ REGULARLY, TRY TO UNDERSTAND, THIS MEANS YOU ARE ASSOCIATING WITH SRILA RUPA GOSVAMI DIRECTLY. AND IF YOU ACT ACCORDINGLY, THEN YOU ARE SERVING THEIR LOTUS FEET. TANDERA CARANA-SEVI-BHAKTA-SANE VASA.
(compiled by Mahesh Raja)